Click To Enlarge
Free Shipping on this item to locations with normal delivery access in the U.S. 48 states; locations in Alaska, Hawaii, and outside the U.S. require additional shipping charges. Locations with limited access may require pickup at your local terminal for free shipping.

For Truck shipments, you must be able to unload the items at the delivery point for free shipping, (lift gate service is extra, please order if needed). Delivery pickup at the terminal can also be requested, and would be free shipping also.

*We have a credit card sales limit (see the menu above on his page, home page, or checkout page for limit). All orders over the limit should be paid for by personal, business, or cashier's check, postal money order(s) or finance contract (see our web page for financing options).

All items paid for by credit card must be shipped to the billing address of the credit card and if shipped by UPS or Fedex, are sent signature required. If no one will be at the location for delivery, then payment should be by check, so the package can be delivered without a signature.

Features/Specifications
The base price shown above is for the models with Electric locker; the units with the ARB air locker are $60.00 more, and the standard differentials are $1035.00 less.
The units are available in all versions above with gear ratios of: 3.73, 4.10, 4.56, 4.88, 5.13, or 5.38.
Models listed below are special order and not normally stocked and may take longer to ship. Special order units cannot be returned. Normally stocked units can be returned if the unit WAS NOT OPENED and the packaging is good.
Special order models:
10010519; 10032861; 10048820;10032862; 10048821; 10032863; 10032865; 10048824; 10032866; 10048825.
The Only Choice for 100% Genuine Dana-Quality Axles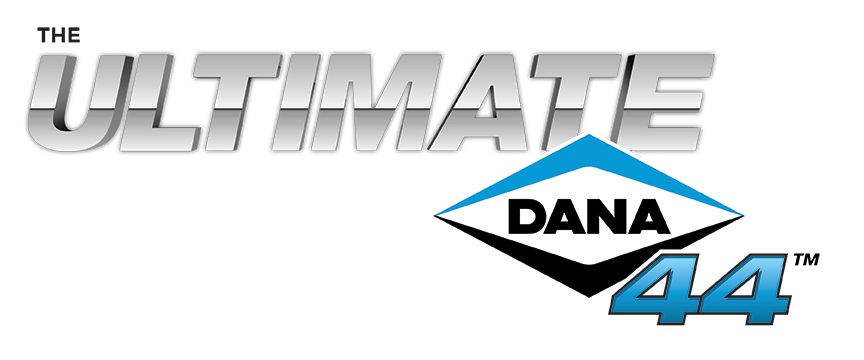 The Ultimate Dana 44™ axle is a direct bolt-in solution that delivers optimal strength, durability, and performance. Featuring a number of upgrades for added on-trail durability, plus added strength wherever you take your vehicle, the Ultimate Dana 44™ axle is built to meet the demands of serious off-road enthusiasts.

Designed specifically for the Jeep Wrangler JK, 2007 to present.
Ultimate Dana 44™ Front Axles: Built Tough for Off-Road.
From the Spicer® nickel chromoly steel axle shafts to the Spicer® performance differential cover to the SPL® 1350 axle shaft universal joints, the Ultimate Dana 44™ front axle is built to deliver for people who rely on their Jeep® Wrangler® JK. In addition, the axle is equipped with the following features and benefits.
Thicker tubes

5/16" thick for improved strength, rigidity, and durability

Redesigned and thicker brackets

1/4" steel to resist bending and endure the off-road environment

Works with most lift kits

Spicer® chromoly axle shafts for optimal strength and performance

Enjoy ultimate protection and retention with Spicer Life Series® (SPL®) 1350 axle shaft u-joints with multi-lip seals and full-circle clips

Performance differential cover and Spicer® performance gasket

Providing enhanced sealing and protection from off-road hazards

Selectable electronic locking differential

Genuine Spicer® gearing

Precision design and manufacturing processes provide ultimate gear mating for optimal strength, life, and quiet performance

Expanded aftermarket gear ratios: 3.73, 4.10, 4.56, 4.88, 5.13, and 5.38

Pinion angle optimized for lifting vehicles

Increased gross axle weight rating (GAWR) allows for the added weight of suspension upgrades, bumpers, winches and larger tires (up through 37" tires)

Improved caster angle for lifted Jeeps®

Dana recommends using military tested and approved 75W-140 synthetic lube (not included)

Provides premium performance and reliability in the toughest environments
The Ultimate Dana 44™ Front Crate Axles (Bolt In Axle Assy. for JK)
Application
Front Axle Part #
2007-2018 Wrangler JK - 3.73 Ratio with Electric Locker
10010519
2007-2018 Wrangler JK - 3.73 Ratio with Std. Diff
10032861
2007-2018 Wrangler JK - 3.73 Ratio with ARB

®

Air Locker

®

10048820
2007-2018 Wrangler JK - 4.10 Ratio with Electric Locker
10010455
2007-2018 Wrangler JK - 4.10 Ratio with Std. Diff
10032862
2007-2018 Wrangler JK - 4.10 Ratio with ARB

®

Air Locker

®

10048821
2007-2018 Wrangler JK - 4.56 Ratio with Electric Locker
10010520
2007-2018 Wrangler JK - 4.56 Ratio with Std. Diff
10032864
2007-2018 Wrangler JK - 4.56 Ratio with ARB

®

Air Locker

®

10048822
2007-2018 Wrangler JK - 4.88 Ratio with Electric Locker
10010521
2007-2018 Wrangler JK - 4.88 Ratio with Std. Diff
10032864
2007-2018 Wrangler JK - 4.88 Ratio with ARB

®

Air Locker

®

10048823
2007-2018 Wrangler JK - 5.13 Ratio with Electric Locker
10010522
2007-2018 Wrangler JK - 5.13 Ratio with Std. Diff
10032865
2007-2018 Wrangler JK - 5.13 Ratio with ARB

®

Air Locker

®

10048824
2007-2018 Wrangler JK - 5.38 Ratio with Electric Locker
10010742
2007-2018 Wrangler JK - 5.38 Ratio with Std. Diff
10032866
2007-2018 Wrangler JK - 5.38 Ratio with ARB

®

Air Locker

®

10048825
Related Parts
| Application | Front Axle Part # |
| --- | --- |
| E-Locker Wire Harness Kit | 10021771 |
| HD Front Driveshaft 0-2" Lift (with T-Case Yoke & Hardware) | 10018230 |
| HD Front Driveshaft 2-4" Lift (with T-Case Yoke & Hardware) | 10020345 |
| Blue Nodular Iron Differential Cover | 10048739 |
| Dana Blue Wheel Joint | 5-7166XC |
| OE Integration Crate Axle E-Locker Wire Harness | 10056733 |